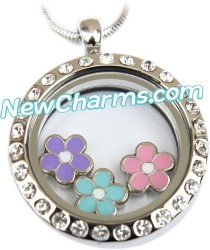 With our Floating Lockets and Floating Locket Charms you can build beautiful and affordable custom jewelry. First pick the locket that matches your style, then choose from over 1000 different styles of floating locket charms! With so many options you can build a beautiful, unique, one of a kind piece of jewelry.
Our lockets are hinged and swing open so you can add charms that show your love, tell your story, or both. Include 5-8 charms in our medium lockets or 7-10 charms in our large lockets and fill it up with your style. You can also buy a living locket and one or two charms for yourself or as a gift and add more charms over time. The choice is yours!
Our memory lockets and floating charms are affordably priced no matter what quantities you buy. From the pages listed below you can buy individual lockets, and you can purchase most charms at under 2 dollars each. You can also mix and match on larger orders and buy charms at under 1 dollar per piece. And for those buying by the dozen per design they are as low as 79 cents per charm which can help you stock up if you have a shop or throw jewelry home parties.