What's happening at NewCharms.com? Here are our recent updates...
Thursday April 12th
Just when you thought they could not get any cuter here are our newest adorable rubber charms for shoes and wristbands. Click here.
Saturday March 24th
Just a couple of sizes left of our high quality floating locket Stainless Steel rings at incredible prices. See our locket clearance page.
Tuesday March 6th
Here are some great Italian Charms and Floating Locket Charms. Whether you are Irish or just feeling lucky this March.
Saturday February 10th
In addition to our clearance items below each we also have these military floating locket charms on sale. Click here.
Friday February 9th
Last call on our clearance charms and dangles for your floating locket. Just 49¢ each! Or purchase by the dozen for just 19¢ each. Limited quantities so grab them while they last. Shop them here.
Tuesday February 6th
Do not miss our great pricing on our bangle bracelets for medium in-line lockets. Plus we've reduced the prices on all of our other stainless steel bracelets too! Shop here.
Saturday February 3rd
Even more rubber charms for your wristbands and rubber clog shoes!
Thursday January 25th
We just received these great new US Military Snap Charms.

We now have over 250 unique snap charms plus all 26 letters.

Click here to see them all.
Thursday January 18th
Some great new inspirational cuff bangles in stainless steel. They look great on their own and are stackable too. See them all here.
Monday January 16th
We added a few new adorable rubber charms which are compatible with our wristbands and your rubber clog shoes too.
Monday January 15th
We have these Italian Charms below in limited supply...
Wednesday December 20th
Happy Holidays everyone!!! We are shipping every day Tuesday through Saturday the next two weeks so you can order anytime. Rush shipping is available in case you need it! We hope you have fun and safe holidays and thank you for your business.
Sunday December 17th
Order $20 or more by midnight tomorrow December 18th and we'll upgrade to Priority 2-3 day shipping at no extra charge. We're working extra hours this week so orders placed Sunday will ship out on Monday and all orders which come in on Monday will ship on Tuesday.
Note that this is for all in-stock items shown on the site. Our custom items (custom photo items and custom laser charms) still take 2-3 days to make in most cases.
Thursday December 7th
After some customer requests we were able to make a new water skier rubber charm (for shoes and wristbands) as well as these ADORABLY cute animal rubber charms:
And our Letter Disks for Inside our Big Round lockets are as low as 28¢ ea while they last! We offer these letter disks in silver, gold, and rose gold colors and have A-Z available for a limited time. Click here to see them all. (Place inside any of our stainless steel & alloy 30mm lockets.)
Tuesday November 28th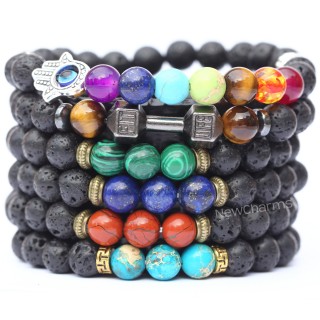 Grab this deal while it lasts. Rock bracelets on sale!
Our new rock bracelets feature beautiful stones and charms at incredible pricing. Made from natural stones, our bracelets offer the unique texture of lava rock contrasted with brilliantly shiny polished stones. The vibrant colors and patterns feature deep and vibrant colors like cat eye stones and aqua colors.
Pricing now as low as $4.44 in bulk and even individually they are under $6 each for a limited time!
Monday November 27th
But wait there's more! See our sale items in the red boxes below and our 1 cent deals in the green boxes as well.
These incredible deals are available for a limited time.
Fidget Spinners just 48¢ and 98¢
Our spinners are boxed and ready
to be great gifts and stocking stuffers